Penggunaan Gaya Berfikir Dan Kemahiran Berfikir Aras Tinggi Bagi Menyelesaikan Masalah Dalam Penghasilan Produk: Analisis Keperluan
Application of Thinking Style and Higher Order Thinking Skills to Solve Problems in Product Production: Needs Analysis
Keywords:
Kata Kunci: Gaya berfikir, kemahiran berfikir aras tinggi, menyelesaikan masalah, penghasilan produk
Abstract
Penyelesaian masalah merupakan kaedah yang praktis yang bertujuan untuk menjana idea yang bernas untuk membentuk beberapa penyelesaian yang lebih paktikal dan efektif. Penghasilan idea dalam penghasilan produk memerlukan pemikiran yang kompleks iaitu kemahiran berfikir aras tinggi (KBAT). Tujuan kajian ini adalah untuk menganalisis keperluan gaya berfikir dan KBAT bagi menyelesaikan masalah dalam penghasilan produk dalam kalangan pelajar. Reka bentuk kajian ini berbentuk deskriptif dengan pendekatan kuantitatif. Seramai 320 orang pelajar bidang Diploma Kejuruteraan Awam di Politeknik Sultan Abdul Halim Muad'zam Shah telah dipilih secara rawak sebagai sample kajian.  Satu set soal selidik yang dibangunkan telah digunakan sebagai instrumen kajian. Data dianalisis menggunakan perisian SPSS dan dibentangkan dalam bentuk min, frekuensi dan peratusan.  Kajian menunjukkan bahawa sebanyak 90.9% pelajar menghadapi masalah semasa menyelesaikan tugasan berbentuk menyelesaikan masalah dalam penghasilan produk. Masalah yang paling banyak dihadapi semasa menyelesaikan masalah adalah menggunakan minda untuk mencari makna dan penyelesaian terhadap keraguan atau masalah yang timbul.  Manakala, masalah yang paling banyak dihadapi semasa menyelesaikan tugasan dalam penghasilan produk adalah mencari idea untuk membangunkan sesuatu produk. Faktor-faktor kesukaran menyelesaikan masalah dalam penghasilan produk adalah tidak mempunyai kemahiran khusus, tidak mempunyai pengetahuan mengenai kemahiran khusus dan tidak mempunyai latihan khusus. Akibatnya, pelajar mengalami kesukaran menyelesaikan masalah dalam penghasilan produk.  Namun begitu, 95.6% pelajar berpendapat bahawa mereka memerlukan ilmu gaya berfikir dan KBAT yang memberikan penerangan mengenai langkah kerja secara lengkap bagi menyelesaikan masalah dalam penghasilan produk. Dapatan ini memberi implikasi kepada pelajar untuk memperoleh dan meningkatkan Gaya Berfikir dan KBAT bagi menyelesaikan masalah dalam penghasilan produk.
Abstract
Problem solving is a practical method that aims to generate ideas to form some more pactical and effective solutions. The production of ideas in the production of products requires complex thinking that is higher order thinking skills (HOTS). The purpose of this study is to analyze the need for thinking style and HOTS to solve problems in product production among students. The design of this study is descriptive with a quantitative approach. A total of 320 students in the field of Diploma in Civil Engineering at Sultan Abdul Halim Muad'zam Shah Polytechnic were randomly selected as the study sample. A set of questionnaires was developed as a research instrument. Data were analyzed using SPSS software and presented in the form of mean, frequency and percentage. Studies show that 90.9% of students face problems while solving tasks in the form of problem solving in product production. The most common problem when solving a problem is using the mind to find the meaning and solution to the doubts or problems that arise. Meanwhile, the most common problem faced when completing tasks in product production is finding ideas to develop a product. Factors of difficulty solving problems in product production are lack of specialized skills, lack of knowledge of specialized skills and lack of specialized training. As a result, students have difficulty solving problems in product production. However, 95.6% of students think that they need knowledge of thinking style and HOTS that provide a complete description of work steps to solve problems in product production. These findings have implications for students to acquire and improve Thinking Style and HOTS to solve problems in product production.
Downloads
Download data is not yet available.
References
Rujukan
Ali, M., & Noordin, S. (2010). The relationship between critical thinking skills and academic achievement among students in the Faculty of Education University Malayia technology. Technology Journal, Volume 52 may 210, 44-45
Chew, F. P., & Nadaraja. S. (2014) Pelaksanaan kemahiran berfikir kreatif dan kritis dalam pengajaran dan pembelajaran KOMSAS di Sekolah Menengah. Jurnal Pendidikan Bahasa melayu ;Malay Language Education (MyLEJ), 4 (2). pp. 10-24. ISSN 2180-4842.
Chen, W. (2011). A Study of the Learning Problems of Undergraduate Industrial Design Students in Studio Courses. Proceedings of IASDR 2011, the 4th World Conference on Design Research, 31 Oktober - 4 November. Delft, the Netherlands.
Elizondo, L. A., Yang, M., Kisselburgh, L. G., Hirleman, E. D., Cipra, R. J.and Ramani, K. (2010). Detc2010- 28985 Understanding Innovation In Student Design Projects.
Fouladi, N & Shahidi, E. (2016). Creativity, thinking style and mental disorders. Journal of Fundamental and Applied Sciences. 8. 1726. 10.4314/jfas.v8i2s.110.
Ismail, N.H., Sidek, S., & Mahbib, U.K. (2015). Faktor Keberkesanan Pengajaran dan Pembelajaran Kemahiran Berfikir Aras Tinggi Abad Ke-21 bagi Pelajar Sains. Seminar Kebangsaan Majlis Dekan-Dekan Pendidikan Universiti Awam 2015, 14-15 September 2015, p.228-238. Universiti Tun Hussein Onn Malaysia. Literature Component), 6(November 2015), 59–67.
Ismail, S., & Atan, A. (2011). Aplikasi Pendekatan Penyelesaian Masalah Dalam pengajaran Mata Pelajaran Teknikal dan Vokasional di Fakulti Pendidikan UTM. Journal of Educational Psychology and Counseling,volume 2, Jun 2011, Pages 113-144/ISSN: 2231-735X.
Ismail, N., & Mahamod, Z. (2016). Sikap dan Kesediaan Pelajar Sekolah Menengah Terhadap Kemahiran Berfikir Aras Tinggi dalam Pembelajaran Komsas Bahasa Melayu (Attitude and Readiness Secondary School Students on Higher Order Thinking Skill in Malay Language.
Hatib, A., Musta, B., Jamal, A., Fairus, A. and Mohd, B. (2009). Computer Aided Design (CAD): Peranannya Di Dalam Mereka Bentuk.
Janet, B. B., Kimberly, A. G., & Ken, K. (2010). up to the challenge: The Role of Career and Technical Education and 21st Century Skills in College and Career Readiness. U. S.: Career Technical Education Consortium and Partnership for 21st Century Skills.
Jansen van Rensburg, M.S., 2011a, 'Forgetting to Remember: Organisational Memory', PhD thesis, Dept. of Industrial and Organisational Psychology, University of South Africa.
Kanesan Abdullah, A. G., Ismail, A, Abdullah, M. H., & Purba, M. (2012). Acquired and required competencies in manufacturing sector graduates from employers' and employees' perspective: The Malaysian case. Educational Research. 3(2),126-136.
King, F. J., Goodson, L., & Rohani, F. (2013). Higher Order Thinking Skills. Retrieved from http://www.cala.fsu.edu
Kementerian Pendidikan Malaysia, (2013) Pelan Pembangunan Pendidikan Malaysia (PPPM) 2013 –2025 (Pendidikan Prasekolah hingga Lepas Menengah). Putrajaya; Kementerian Pendidikan Malaysia.
Kementerian Pendidikan Malaysia (2015). Ringkasan Eksekutif Pelan Pembangunan Pendidikan Malaysia 2015-2025 (Pendidikan Tinggi) Di akses pada 10 December 2017 dari www.ptsb.edu.my.
Kementerian Pengajian Tinggi Malaysia. (2012). The National Graduate Employability Blueprint 2012-2017.
Md. Yunos, J., Yee, M. H., Ariffin, A., Othman, W., Hassan, R. & Tee, T. K. (2010) Penjanaan Idea Berdasarkan Kemahiran Berfikir Aras Tinggi Bagi Mata Pelajaran Pendidikan Kejuruteraan. Prosiding Persidangan Kebangsaan Pendidikan Kejuruteraan Dan Keusahawanan 2010 (NCEE 2010). KotaBahru, Kelantan: Universiti Malaysia Terengganu & Universiti Tun HusseinOnn Malaysia.
Mohd Amin, N. F., & Saud, M. S., (2008) Pelaksanaan kursus reka cipta: pengalaman pengajaran dan pembelajaran di UTM. In: Seminar Penyelidikan Pendidikan Pasca Ijazah 2008, 25-27 November 2008, Universiti Teknologi Malaysia.
Navan, S. F. S., & Mehdi, S. (2015). The relationship between functions of thinking styles and academic achievements motivation among students of Payame Noor university, Iran. Indian Journal of Fundamental and Applied Life Sciences, 5(3), 1699-1708.
Nazarifar, F., Abolghasemi Najafabadi, M., Kamali, F. & Hosseini, T. (2011). Examination of relationship between thinking styles performance and academic success among scholars of technical and engineering academy of Tehran University. Iranian Journal of Engineering Education, 12(47), 49-62.
Ozturk, E. (2010). Online Distance Education: A New Approach to Industrial Design Education. Tesis Sarjana. Middle East Technical University. Dicapai pada 2 Mei 2011 daripada http://etd.lib.metu.edu.tr/upload/12612241/index.pdf
Puteh, S. N., Ghazali, N. A., Tamyis, M. M., & Ali, A., (2012). Keprihatinan guru Bahasa Melayu dalam melaksanakan kemahiran berfikir secara kritis dan kreatif. Jurnal Pendidikan Bahasa Melayu, 2 (1): 19- 31
Ramlan, M, F. (2012). The cause of graduates can be difficult to work. On reach October 10, 2016 http://blog.mohe.gov.my/2012/11/punca-graduan-sukar-dapat-kerja.html
Ravinder, S. (2013). Examination board lacks HOTS. Retrieved from http://www.freemalaysiatoday.com
Rodzalan, S, A., & Saat, M, M. (2015). The Perception of Critical Thinking and Problem Solving Skill among Malaysian Undergraduate Students. Global Conference on Business & Social Science-2014, GCBSS-2014, 15th & 16th December, Kuala Lumpur. Procedia - Social and Behavioral Sciences 172 ( 2015 ) 725 – 732.
Rusmin, R. (2015, August 10). 4 kemahiran sasaran utama majikan. HM Online. https://www.hmetro.com.my/node/64995
Shuib, M. (2007). Developing Undergraduates' Thinking Skills. Prosiding Persidangan Pengajaran dan Pembelajaran di Peringkat Institusi Pengajian Tinggi (CTLHE07). Serdang: Universiti Putra Malaysia. ms. 89-98.
Sulaiman, R., Aziz, M. & Mok, S. S. (2011). Kemahiran Berfikir. Selangor: Penerbitan Multimedia.
Sulaiman, T., Muniyan, V., Madhvan, D., Hasan, R., Syrene, S., & Rahim, A. (2017). Implementation of Higher Order Thinking Skills in Teaching Of Science : A Case Study in Malaysia, 1(1), 1–3.
Smith, D., Hedley, P. & Molloy, M. 2009. Designlearning: a reflective model. Design Studies, 30, 13-37.
Wardi, R, H. (2016). Prosedur Penjanaan Idea Menggunakan Teknik Sumbang Saran untuk Kursus Eksplorasi Reka Bentuk Tekstil di Universiti Teknologi Mara Malaysia. Universiti Malaya: Thesis Ph.D.
Wiersma, W. & Jurs, S. G. (2005). Research Method in Education : An Introduction Bostan : Allyn and Bacon
Yee, M. H., Md Yunos, J., Othman, W ., Hassan, R. & Tee, T. K. (2010). Penggunaan Kemahiran Berfikir Aras Tinggi Marzano Dalam Penjanaan Idea. Prosiding Seminar Majlis Dekan Pendidikan IPTA 2010, Shah Alam: Universiti Teknologi Mara. ms. 60-73.
Yee, M. H., Othman, W. B., Md Yunos, J., Tee, T. K.., Hassan, R., Mohaffyza, M., & Mohamad, B. (2011). The Level of Marzano Higher Order Thinking Skills among Technical Education Students. International Journal of Social Science and Humanity, 1(July), 121–125. http://doi.org/10.7763/IJSSH.2011.V1.20.
Yee, M. H (2015). Kesan Manual Pengintegrasian Strategi Pemblejaran dan Kemahiran Berfikir Terhadap Penjanaan Idea Dalam Kalangan Pelajar Teknikal. Universiti Tun Hussein Onn Malaysia: Thesis Ph.D.
Zhang, L. F., & Sternberg, R. J. (2006). The nature of intellectual styles. Mahwah, N.J.: Lawrence Erlbaum Associates.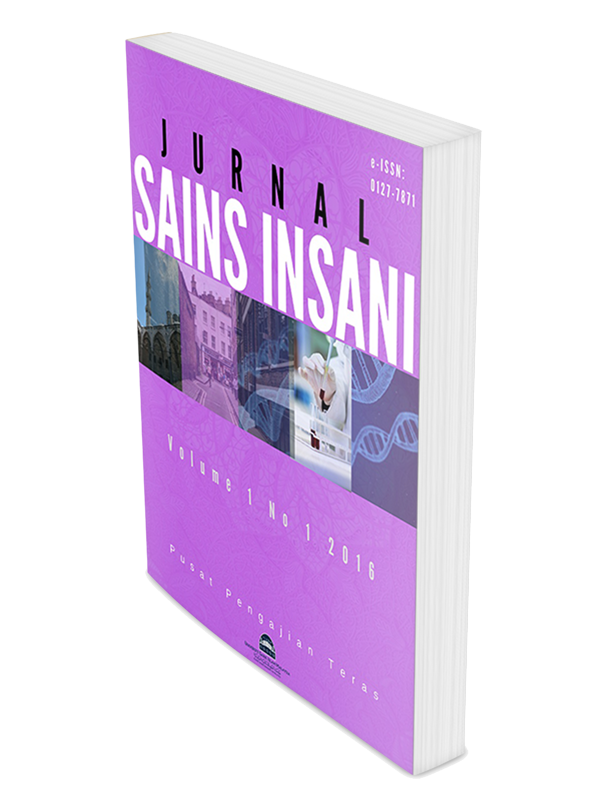 CITATION
DOI: 10.33102/sainsinsani.vol6no2.311
033 OJS add phone number field
How to Cite
Hamdan, . N. ., Mei Heong, Y. ., Jailani, A., Masran, S. H., Boon Ching, K. ., Tze Kiong, T., & Mohamad, M. M. . (2021). Penggunaan Gaya Berfikir Dan Kemahiran Berfikir Aras Tinggi Bagi Menyelesaikan Masalah Dalam Penghasilan Produk: Analisis Keperluan: Application of Thinking Style and Higher Order Thinking Skills to Solve Problems in Product Production: Needs Analysis. Sains Insani, 6(2). https://doi.org/10.33102/sainsinsani.vol6no2.311
Copyright (c) 2021 Nuraffefa Hamdan, Yee Mei Heong, Azrol Jailani, Saiful Hadi Masran, Kok Boon Ching, Tee Tze Kiong, Mimi Mohaffyza Mohamad
This work is licensed under a Creative Commons Attribution 4.0 International License.
1. Author holds the copyright of the article.
2. Jurnal Sains Insani owns the rights to publish the article. The writer may request permission to republish the article from the editor.
3. Jurnal Sains Insani follows the APA (American Psychological Association) style for all in-text citation and list of bibliographies.