Pembangunan Modul Pengajaran Berasaskan Permainan Digital Bagi Kursus Teknologi Elektrik 1
Development of Module for Digital Game-Based Learning for Electrical Technology 1 Course
Keywords:
Modul Pengajaran, Pembelajaran berasaskan permainan, Teknologi Elektrik
Abstract
Pada abad ke-21 ini, pengajaran secara tradisional kurang mampu menarik perhatian pelajar dalam mempelajari sesuatu ilmu tersebut. Kementerian Pelajaran Malaysia (KPM) juga telah melancarkan program Sekolah Bestari seawal tahun 1999 yang bertujuan untuk melakukan anjakan paradigma yang sistematik terhadap budaya sekolah dengan melaksanakan teknologi sebagai mekanisme pembelajaran dan pemudah caraan (PdPc). Sejajar dengan hasrat kerajaan ini, idea di sebalik pembelajaran berasaskan permainan digital di dalam bilik darjah mampu dijadikan sebagai PdPc agar pelajar dapat lebih banyak visual dan interaktif sekaligus dapat memberi tumpuan kepada penyelesaian sesuatu masalah tanpa tekanan melampau. Tujuan kajian ini dijalankan adalah untuk membangunkan sebuah modul pengajaran berasaskan permainan digital bagi kursus Teknologi Elektrik 1 yang mendasari Model Meyer. Justeru, dua set borang penilaian disediakan untuk pakar yang mengandungi 29 item dan pengguna sebanyak 20 item telah digunakan untuk mendapatkan maklum balas dalam kesesuaian format, kandungan dan kebolehgunaan modul yang dibangunkan. Analisis ke atas 5 orang responden pakar menunjukkan maklum balas yang positif dan mereka juga bersetuju dengan aspek format, kandungan dan kebolehgunaan keseluruhan modul yang dibangunkan. Analisis ke atas 10 orang responden pengguna pula menunjukkan bahawa majoriti memberikan maklum balas positif ke atas aspek format dan kandungan modul. Kesimpulannya, format, kandungan dan kebolehgunaan modul yang dibangunkan adalah bersesuaian. Cadangan kajian lanjutan adalah untuk menguji keberkesanan modul pengajaran berasaskan permainan digital bagi kursus Teknologi Elektrik 1 terhadap beberapa aspek seperti sikap, minat dan pencapaian pelajar.
Downloads
Download data is not yet available.
References
Alanso-Tapia, J. & Pardo, A. (2006). Assessment of learning environment motivational quality from the point of view of secondary and high school learners. New York. Learning and Instruction.
Aldrich, C. (2005). Learning by Doing: A Comprehensive Guide to Simulations, Computer Games, and Pedagogy in e-Learning and Other Educational Experiences, San Francisco, John Wiley & Sons, 2005.
Alfi, O., Assor, A., & Katz, I. (2004). Learning to allow temporary failure: Potential benefits, supportive practices and teacher concerns. Journal of Education for Teaching, 30(1): 27-31.
Baviskar, S. N., Hartle, R. T. and Whitney, T. (2009). Essential Criteria to Characterize Constructivist Teaching: Derived from a review of the literature and applied to five constructivist-teaching method articles. International Journal of Science Education, 31:4, 541-550, DOI: 10.1080/09500690701731121
Bayliss, J. D. (2007). The effects of games in CS1-3. Proceedings of Microsoft Academic Days Conference on Game Development in Computer Science Education. International Journal of Science Education, 31(4): 59-63.
Charsky, D., Mims, C. (2008). "Integrating commercial off-the-shelf video games into school curriculums", TechTrends, Vol. 52, pp. 38–44, 2008.
Cordova D.I., Lepper M.R. (1996), "Intrinsic motivation and the process of learning: beneficial effects of contextualization, personalization, and choice", Journal of Educational Psychology, Vol. 88, pp. 715–730, 1996.
Dickey, M. D. (2011). Murder on grimm Isle; the impact of game narrative design an educational game based learning environment. British Journal of Educational Technology.
Druckman D. (1995), "The educational effectiveness of interactive games", in: D. Crookall and K. Arai (Eds.), Simulation and Gaming across Disciplines and Cultures, London Sage, 1995.
Ebner, M., & Holzinger, A. (2005). Successful implementation of user-centered game-based learning in higher education: an example from civil engineering. Computer & Education, 49(3).
Farber, M. (2015). Gamify your classroom: A field guide to game-based learning. New York: Peter Lang.
Gentile, D. A. & Gentile, J. R. (2008). Violent video games as exemplary teachers: A conceptual analysis. Journal of Youth and Adolescence.
George Miller (1956). The Psychological Review: "The Magical Number 7, Plus or Minus Two; Some Limits on Our Capacity for Processing Information". Harvard University, Vol. 63, No. 2
Good, T. L., & Brophy, J. E. (1990). Educational psychology: A realistic approach (4th ed.). Longman/Addison Wesley Longman.
Johnston R.T., Felix de W. (1993), "Learning from video games", Computers in the Schools, Vol. 9, pp. 199–233, 1993M. Baranauskas, N. Neto, M. Borges, "Learning at work through a multi-user synchronous simulation game", Proceedings of the PEG'99 Conference, pp. 137–144, 199
Lombardo, T. (2018). Wired: A Video Game to Spark Interest in Engineering. [online] Engineering.com. Available at: https://www.engineering.com/Education/EducationArticles/ArticleID/17859/Wired-A-Video-Game-to-Spark-Interest-in-Engineering.aspx [Accessed 4 Jan. 2020].
Lope Pihie, Z. A. (2005). Memperkasa Pendidikan Pelajar Berisiko. Serdang:UPM.
Meyer, G. R. (1988). Modules: From Design to Implementation. 2nd ed. Filipina: Colombo Plan Staff College for Technician Education.
Mayer, R. E. (2001). Multimedia Learning, Cambridge, Cambridge University Press, 2001.
Mitchel, A. & Savill-Smith, C. (2004). The use of computer and video games for learning: A review of the literature. London: Learning and Skills Development Agency.
Mohd Noah, S. & Ahmad, J. (2005). Pembinaan Modul Bagaimana Membina Modul Latihan dan Modul Akademik. Serdang: Penerbit Universiti Putra Malaysia.
Noah, S. M., & Ahmad, J. (2005).Pembinaan Modul: Bagaimana Membina Modul Latihan dan Modul Akademik. Serdang: Penerbit Universiti Putra Malaysia.
Prensky, M. (2001). Digital Game Based Learning. New York, New York: McGraw-Hill.
Raessens, J., Goldstein, J. (2003). Handbook of Computer Game Studies, Cambridge, MIT Press, 2003.
Richard, O. (2004). An overview of Jerome Brunner His Theory of Constructivism. In Partial Fulfillment of The Requirement for ECI 761.
Roland, L. M. (2017). Learning Technologies in Education: Issues and Trends. Gamification and Learning: Increasing Student Online Session Engagement through Gamification. Youngstown State University.
Rogers, C. & Freiberg, J. (1994). Freedom to Learn. (3rd ed.). New York: Macmillan.
Sani, Ridwan Abdullah (2014). Pembelajaran Saintifik untuk Implementasi Kurikulum 2013. (Jakarta: Bumi Aksara, 2014).
Shaffer, D.W., Squire, K.R., Halverson, R., Gee, J.P. (2005). "Video games and the future of learning", Phi Delta Kappan, Vol. 87, pp. 105–111, 2005.
Shahabuddin Hashim, Dr. Rohizani Yaakub dan Mohd. Zohir Ahmad (2003). "Pedagogi: Strategi dan Teknik Mengajar dengan Berkesan." Pahang: PTS Publications &
Distributors Sdn. Bhd.
Shahrom Noordin (1994). Modul Pengajaran Kendiri(MPK): Satu Inovasi Dalam Proses Pengajaran Dan Pembelajaran. Johor Bahru: Universiti Teknologi Malaysia.
Sulaiman, E. (2002). Pengenalan Pedagogi. Skudai, Johor Bahru: Penerbit Universiti Teknologi Malaysia.
Syaiful Bahri, D. (1996). Strategi Belajar Mengajar, Jakarta: PT Rineka Cipta
Tekkaya, C. (2002). Misconceptions as barrier to understanding biology. Journal of Education, 23.
Thornton G.C., Cleveland J.N. (1990), "Developing managerial talent through simulation", American Psychologist, Vol. 45, pp. 190–199, 1990.
Tomlinson, C. A., Moon, T. & Imbeau, M. B. (2013). Assessment and Student Success in a Differentiated Classroom. Alexandria, USA: SCD Professional Learning Services.
Tretinjak. M. F., Bedapest, A., Tretinjak, M., (2014). Application of modern teaching techniques in the educational process, in: Information and Communication Technology, Electronics and Microelectronics (MIPRO), 2014 37th International Convention.
Universiti Tun Hussein Onn Malaysia (UTHM) (2016). Academic Proforma 2016/2017 Bachelor of Vocational Education (Electrical and Electronics with Honours) BBE. Batu Pahat: Universiti Tun Hussein Onn Malaysia
Virvou, M., Katsionis, G., & Manos, K. (2005). Combining software games with education: Evaluation of its education effectiveness. Educational Technology & Society, 8(2).
Yien, J. M., Hung, C. M., Hwang, G.J., & Lin, Y. C. (2011). A game-based learning approach to improving student's learning achievements in a nutrition course. The Turkish online journal of educational technology.
Zuhrita Ariefiani, Djoko Kustono, and Syaad Pathmantara (2016). Module development with project-based learning approach and assure development model. Cite as: AIP Conference Proceedings 1778, 030036 (2016); https://doi.org/10.1063/1.4965770 Published Online: 26 October 2016.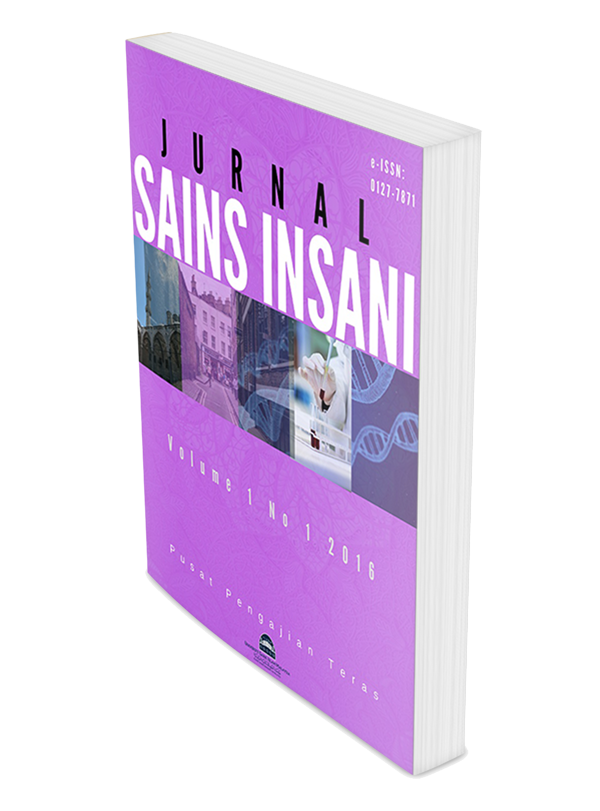 CITATION
DOI: 10.33102/sainsinsani.vol6no1.263
033 OJS add phone number field
How to Cite
Kiong, T. T., Roslen, K. E., Nur Rahma Putra, A. B. ., Risfendra, Heong, Y. M. ., Mohamad, M. M., & Azid, N. (2021). Pembangunan Modul Pengajaran Berasaskan Permainan Digital Bagi Kursus Teknologi Elektrik 1: Development of Module for Digital Game-Based Learning for Electrical Technology 1 Course. Sains Insani, 6(1), 139-143. https://doi.org/10.33102/sainsinsani.vol6no1.263
Copyright (c) 2021 Tee Tze Kiong, Khaireen Edlin Roslen, Andika Bagus Nur Rahma Putra, Risfendra, Yee Mei Heong, Mimi Mohaffyza Mohamad, Nurulwahida Azid
This work is licensed under a Creative Commons Attribution 4.0 International License.
1. Author holds the copyright of the article.
2. Jurnal Sains Insani owns the rights to publish the article. The writer may request permission to republish the article from the editor.
3. Jurnal Sains Insani follows the APA (American Psychological Association) style for all in-text citation and list of bibliographies.