Sejarah "Raja Tua" dan Mengkabong yang Terletak di Pantai Barat Borneo Utara pada Abad ke-18
History of "Raja Tua" and Mengkabong at West Coast of North Borneo in 18th Century
Keywords:
Asal-Usul, Peranan, Raja Tua, SOAS I, Mengkabong.
Abstract
Abstrak: Terdapat pelbagai versi penceritaan yang dikaitkan dengan asal usul Mengkabong menurut generasi lama yang menetap di Mengkabong secara turun-temurun. Pada tahun 1741, Mengkabong menjadi pengkalan laut utama yang terawal semasa pemerintahan Sultan Omar Ali Saifuddin I. Antara individu yang bertanggungjawab untuk menjaga keamanan di kawasan Mengkabong ialah Raja Tua. Raja Tua dilantik sebagai ketua panglima tentera laut di Mengkabong. SOAS I telah menitahkan Raja Tua untuk membina pengkalan laut lalu menyerang, membanteras isu golongan pemburu hamba dan menjaga keamanan di Mengkabong. Kajian ini memfokuskan asal-usul dan peranan Raja Tua sebagai ketua panglima tentera laut di Mengkabong. Raja Tua banyak membantu rakyat di Mengkabong semasa pemerintahan SOAS I. Tambahan pula, Raja Tua telah berjaya mengumpul dan menyatukan bala tentera seperti Bajau dan Dusun demi menjaga keamanan di Mengkabong. Raja Tua melatih empat orang anak yang turut membantunya seperti Embo Ilang, Embo Pat, Embo Kudrat dan Embo Anting. Kajian ini menggunakan beberapa sumber primer, sumber sekunder, temu bual, salasilah dan koleksi peribadi untuk membincangkan asal usul dan peranan Raja Tua di Mengkabong. Selain itu, kajian ini menumpukan kajian lapangan bagi melawat lokasi di Mengkabong seperti makam terbiar dan bekas kubu bagi mengukuhkan fakta yang selari mengikut sumber yang dijelaskan berdasarkan sumber arkib dan koleksi peribadi.


Abstract: There are various versions of the storytelling associated with the origins of Mengkabong according to the older generations who settled in Mengkabong for generations. In 1741, Mengkabong became the earliest major naval base during the reign of Sultan Omar Ali Saifuddin I. Among the individuals who was responsible for maintaining peace in the Mengkabong area is the Raja Tua. Raja Tua was appointed as the commander-in-chief of the navy in Mengkabong. SOAS I has ordered the Raja Tua to build a naval base and attack, eradicate the issue of slave hunters and maintain peace in Mengkabong. This study focuses on the origins and role of the Raja Tua as the commander-in-chief of the navy in Mengkabong. Raja Tua helped the people in Mengkabong during the reign of SOAS I. He managed to gather and unite Bajau and Dusun ethnics and maintained peace in Mengkabong. Raja Tua also trained four of his children named Embo Ilang, Embo Pat, Embo Kudrat and Embo Anting to help him governing Mengkabong. This study uses primary sources, secondary sources, interviews, genealogies and personal collections to discuss the origins and role of the Raja Tua in Mengkabong. In addition, this study also involved fieldwork at Mengkabong to see the abandoned tombs and former forts to strengthen the evidence and facts on Mengkabong.
Downloads
Download data is not yet available.
References
Bock, C. (1985). The Headhunters of Borneo. Oxford Universities Press.
C.O 874/54 Grant by Sultan of Brunei of Territory the Sulaman River to the River of Paitan, 29 Disember 1877.
C.O 874/54, Grant of Mengkabong 20th Mac 1898.
C.O 874/54, Menggatal, Mengkabong, Api-Api, Simbulan, Nafas dan Tambalang River, 23 Mac 1898.
C.O 874/54, Perjanjian hak Kedaulatan Membakut, Api-Api, Kuala Lama, Inanam, Menggatal dan Mengkabong 23rd Mac 1898.
C.O 874/55 Status Pemajakan Sungai Mengkabong, Karambunai, Kabatuan, Napas dan Simbulan.
Forrest, T. (1776) . A Voyage to New Guinea and The Moluccas from Balambangan: Including an Account of Magindanao, Sooloo and Other Island. G.Scott.
Gerlich, B. M. (2003). Marudu 1845: The Destruction and Reconstruction of a Coastal State in Borneo. Abera.
Haji Hasbol bin Haji Mail. (2011). Kesultanan Brunei Abd ke-19. Dewan Bahasa dan Pustaka.
A Map British North Borneo. https://www.loc.gov/resource/g8033s.ct001930/?r=0.443,0.197,0.111,0.044,0
Ismail Ali. (2010). Viking Timur di Kepulauan. Penerbit UMS.
John, S. S. (1862). Life in the Forest of the Far East Vol. I. Smith, Elder and CO
Pehin Jamil Al Sufri. (1999). Pengiran Temangong Raja Tua Abdul Momin Amirul Faza, PUSAKA, 9.
Phelan, P. (2001). The Head Hunting and The Magang Ceremony in Sabah. Opus Publication.
Rutter, Owen. (2008). British North Borneo. Opus Publication.
Shim, P.S. (2007). In land People of Sabah. Borneo Cultural Heritage.
Singh, Ranjit. (2011). The Making of Sabah. Bahagian Kabinet dan Dasar.
Warren, J. F. (2002). Iranun and Balangingi. NUS.
Warren, J. F. 2007.The Sulu Zone, NUS: Singapore.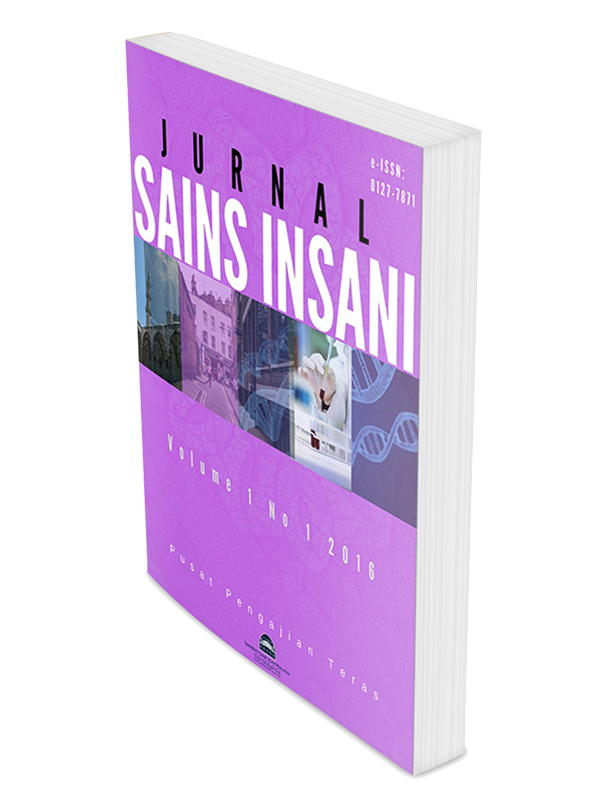 033 OJS add phone number field
How to Cite
Sulaiman, Y., Tarsat, M. ., Idris, R. Z. ., & Abdullah, M. F. (2023). Sejarah "Raja Tua" dan Mengkabong yang Terletak di Pantai Barat Borneo Utara pada Abad ke-18: History of "Raja Tua" and Mengkabong at West Coast of North Borneo in 18th Century. Sains Insani, 8(1), 1-14. Retrieved from https://sainsinsani.usim.edu.my/index.php/sainsinsani/article/view/427
سرور مجازی ایران
Decentralized Exchange
Copyright (c) 2023 Yusry Sulaiman, Mosli Tarsat, Rizal Zamani Idris, Mohammad Firdaus Abdullah
This work is licensed under a Creative Commons Attribution 4.0 International License.
1. Author holds the copyright of the article.
2. Jurnal Sains Insani owns the rights to publish the article. The writer may request permission to republish the article from the editor.
3. Jurnal Sains Insani follows the APA (American Psychological Association) style for all in-text citation and list of bibliographies.