Pemeliharaan Tulisan Jawi dan Penggunaan Tulisan Jawi di Media: Kajian Persepsi Pelajar Melayu di UNITEN
Conservation of Jawi Writings and the Use of Jawi Writings on Media: The Study of Malay Student Perceptions at UNITEN
Abstract
The limited use of Jawi in the media has become a new challenge to Jawi enthusiasts. The influence of globalization and the community's perception on Jawi has resulted in a state of concern regarding the use of Jawi especially in the mass media. Therefore, this study aims to obtain the perception of Malay students at Universiti Tenaga Nasional (UNITEN) pertaining to the use of Jawi in the mass media. The main objective of this study is to examine the perception of Malay students in UNITEN upon the use of Jawi and the preservation of Jawi in the media. The Malay students represent the young generation in the society. This study employed a quantitative research method using questionnaire survey as a source of information regarding the issue investigated. The data obtained was analyzed using SPSS software version 20. The results showed that majority of the respondents had the idea that Jawi should be well-placed in the mass media. One of the important recommendations provided by the respondents is the role of the local authorities to make it compulsory for Jawi scripts to be on billboards and advertisements. This study is important as reference for the concerned parties for actions to be taken for the preservation of Jawi.
Keywords: Jawi script, Jawi preservation, media
Penggunaan tulisan Jawi yang terhad di media telah menjadi cabaran baru kepada para pencinta tulisan Jawi. Pengaruh globalisasi serta persepsi masyarakat terhadap tulisan Jawi telah mewujudkan satu keadaan yang membimbangkan tentang tahap penggunaan tulisan Jawi terutamanya di media massa. Oleh itu, kajian ini berhasrat untuk mendapatkan persepsi dari kalangan pelajar Melayu di Universiti Tenaga Nasional (UNITEN) berkaitan penggunaan tulisan Jawi di media massa. Objektif utama kajian ini adalah untuk menilai persepsi pelajar Melayu di UNITEN berkaitan usaha pemeliharaan tulisan Jawi dan penggunaan tulisan Jawi di media. Pelajar Melayu ini merupakan golongan muda yang mewakili generasi baru dalam masyarakat. Kajian ini menggunakan kaedah penyelidikan secara kuantitatif yang menggunakan borang soal selidik sebagai sumber maklumat berkaitan isu yang dikaji. Data yang diperolehi telah dianalisis menggunakan perisian SPSS versi 20. Hasil kajian menunjukkan majoriti responden berpendapat bahawa tulisan Jawi perlu mendapat kedudukan yang baik di media massa. Antara cadangan penting yang diberikan oleh responden adalah peranan pihak berkuasa tempatan untuk mewajibkan penggunaan tulisan Jawi pada papan tanda dan iklan. Kajian ini penting sebagai bahan rujukan kepada pihak berkaitan untuk tindakan seterusnya sebagai salah satu usaha pemeliharaan tulisan Jawi.
Kata kunci: Tulisan Jawi, pemeliharaan tulisan Jawi, media.
Downloads
Download data is not yet available.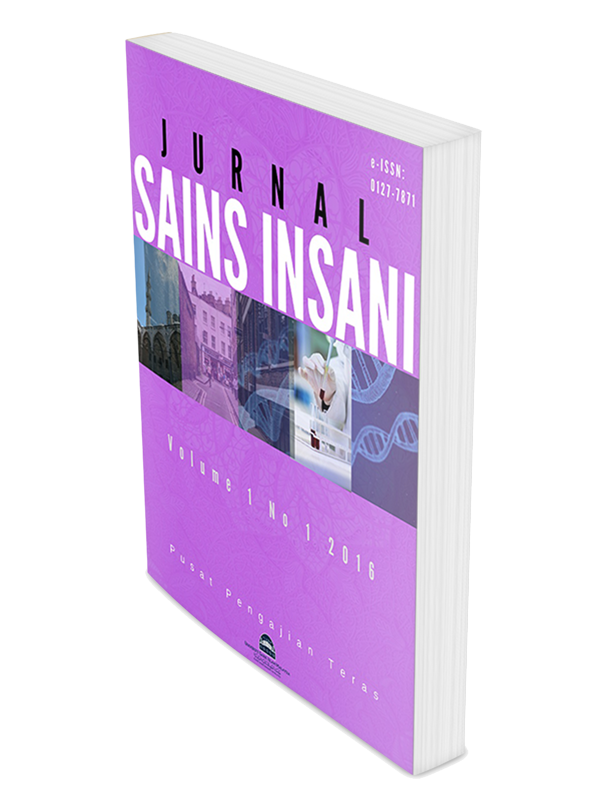 CITATION
DOI: 10.33102/sainsinsani.vol3no2.54
033 OJS add phone number field
How to Cite
Mohd Amin, N., Abdul Rahman, N. A., Razali, W. N., & Abdul Wahab, M. F. (2018). Pemeliharaan Tulisan Jawi dan Penggunaan Tulisan Jawi di Media: Kajian Persepsi Pelajar Melayu di UNITEN: Conservation of Jawi Writings and the Use of Jawi Writings on Media: The Study of Malay Student Perceptions at UNITEN. Sains Insani, 3(2), 1-7. https://doi.org/10.33102/sainsinsani.vol3no2.54
1. Author holds the copyright of the article.
2. Jurnal Sains Insani owns the rights to publish the article. The writer may request permission to republish the article from the editor.
3. Jurnal Sains Insani follows the APA (American Psychological Association) style for all in-text citation and list of bibliographies.